Review: Factor75 Pre-made Meals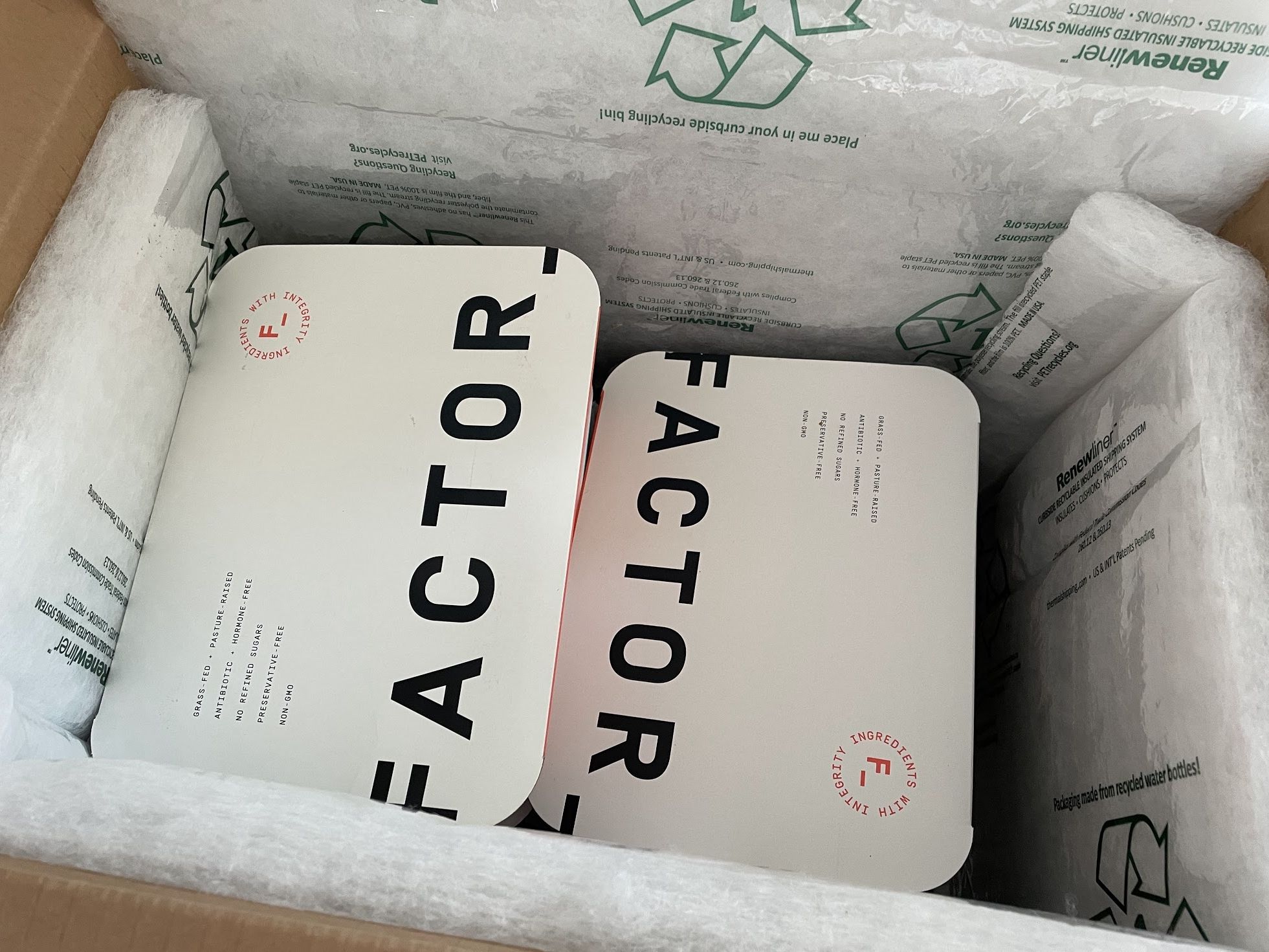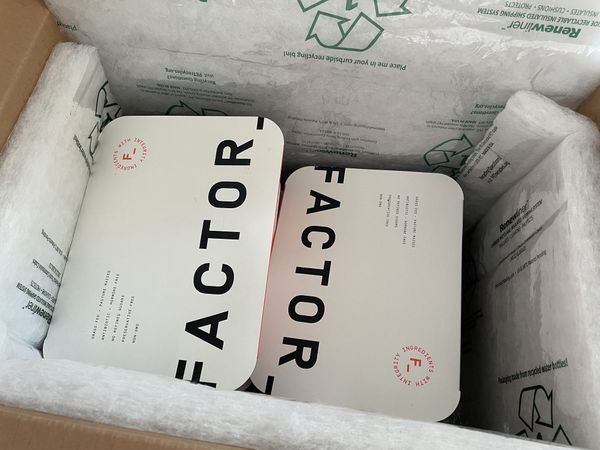 About
Factor75 is a pre-made meal delivery service. They specialize in ready-to-eat meals rather than sending you a bunch of ingredients you have to concoct yourself. We had previously tried Hello Fresh before and weren't fans of making it yourself and the immense amount of packaging and waste involved. Here's a quick review of the Factor meal service and some notes you might be interested in as my girlfriend and I just completed a one month stint. Lastly, as with my other stuff, I wasn't paid to write any of this and only hope someone out in the wild finds this information useful.
The Food
Factor offers a variety of different, already made, ready-to-eat meals from keto, low-calorie and vegetarian options. Specifically, there's "Chef's Choice", "Keto", "Calorie Smart" and "Vegan & Veggie" options to choose from. We chose the Keto option for the month and mostly enjoyed everything we received.
Each meal comes individually packaged in a cardboard sleeve and a black plastic tray. We chose not to use the tray to heat our food since we mostly ate them at home.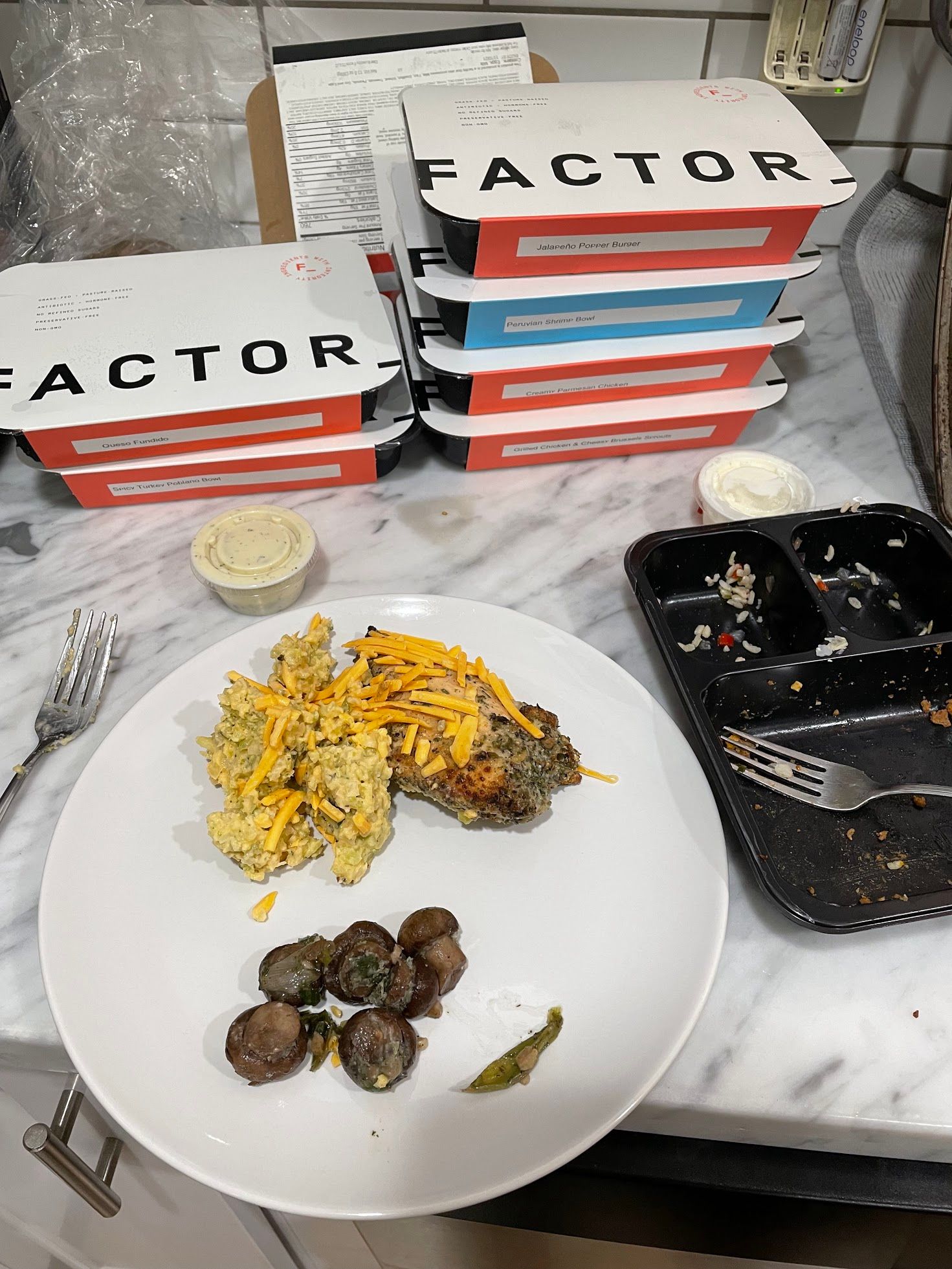 The meals look sort of gimmicky when first unpacked, but once heated, they look a bit more appetizing.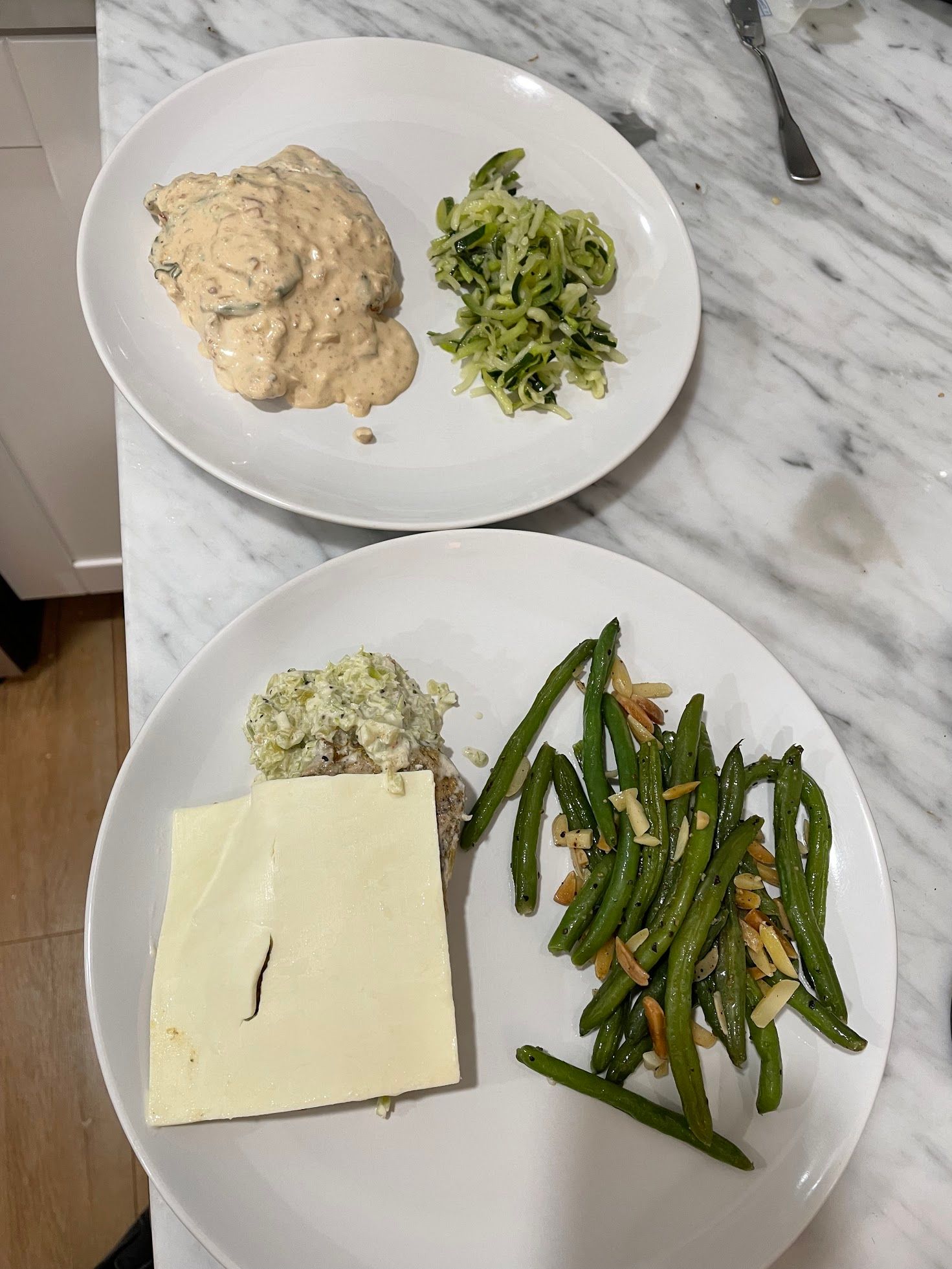 Each meal had its qualities. Overall the food seemed fresh and most things were tasty and palatable. Sometimes the chicken would be dry, or not hot enough, but those were minor gripes. This food isn't going to win any awards, but it's way better than cafeteria slop. It was rarely better than eating out however. But for around $12 a pop, that's not too bad.
Below is a table of the meals we had. We had a few duplicates. Again, no meal was ever inedible. We ate them all!
| Meal | Rating | Notes |
| --- | --- | --- |
| Middle Eastern Spiced Beef | ★★★★★ | Great flavor |
| Chorizo Tostada Bake | ★★★★★ | Tasty! |
| Spicy Turkey Pablano Bowl | ★★★★★ | |
| Keto White Cheddar Beef Bowl | ★★★★★ | |
| Keto Turkey Chili & Zucchini | ★★★★★ | |
| Queso Fundido | ★★★★★ | |
| White Cheddar Chicken | ★★★★★ | Good sides, had some crunch |
| Spicy Turkey Pablano Bowl | ★★★★★ | |
| Parmesan Pesto Chicken | ★★★★ | Good veggies |
| Keto Monterey Spinach Chicken | ★★★★ | |
| Keto Ranch Chicken | ★★★★ | Good |
| Grilled Chicken & Cheesy Brussels | ★★★★ | |
| Keto Poblano Bowl | ★★★★ | Not as good as Spicy Turkey Pablano Bowl |
| Peruvian Shrimp Bowl | ★★★★ | |
| Keto Ranch Chicken | ★★★★ | |
| Chicken Picatta | ★★★★ | |
| Shrimp Alfredo | ★★★★ | |
| Creamy Parmesan Chicken | ★★★★ | |
| Sun-Dried Tomato Chicken | ★★★★ | Potatoes would be a good side here |
| Apricot Mustard Grilled Chicken | ★★★★ | Felt more gourmet than others |
| Blackened Salmon | ★★★★ | Generous salmon portion |
| Jalapeno Popper Burger | ★★★ | Eh |
| Keto Mushroom Burger | ★★★ | All over the place |
| Chicken & Mushroom Marsala | ★★★ | Mushrooms were too mushy |
| Grilled Chicken a la Vodka | ★★★ | All over the place, messy, dry chicken |
Overall, the burger patties were the least favorite. They were just too generic to enjoy. Really only four (4) less than average meals out of 32 total is a pretty good average.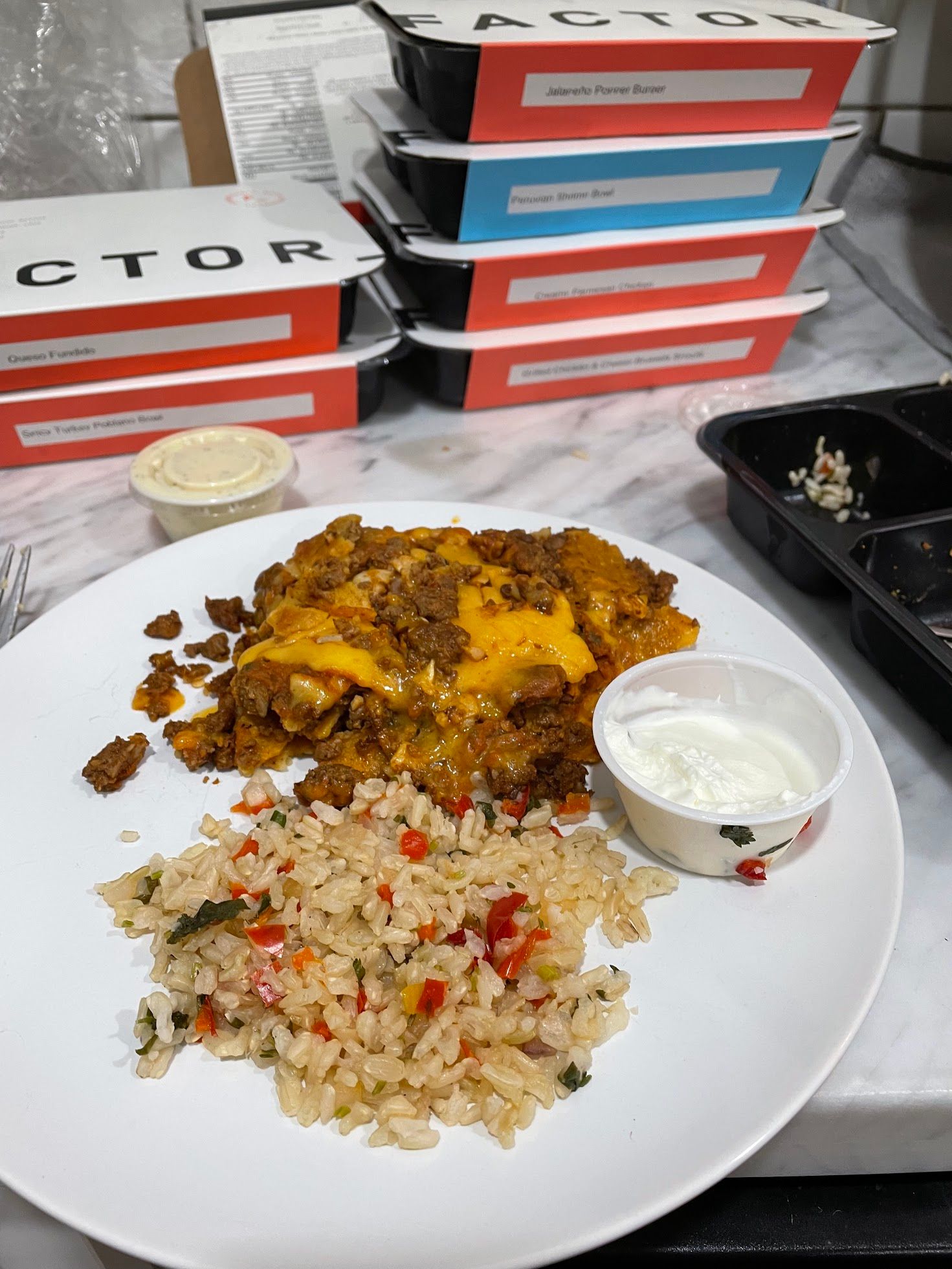 Convenience
The biggest draw for the Factor meals is the overall convenience. When they come by FedEx, you put them in the fridge and they are ready to go for the next few days. Dinner for two is a no-brainer when there's Factor in the fridge. Go pick your meal, heat it up and eat. It does take some of the fun out of dinner in that regard I suppose. My girlfriend commented that it made her life easier as she does the bulk of the shopping. Overall, she had far fewer trips to the grocery store when we had the Factor meals ready-to-go.
Weight Loss
We didn't really lose any noticeable weight. Factor doesn't really market their meals as a weight loss instrument but does tout them as healthy. I suppose they are mostly whole foods with minimal processing outside of the sauces and creams. Regardless, there is considerable portion control at play here. If you struggle with portions, the Factor meals can help put into perspective what a reasonably sized meal is supposed to look like. I wouldn't expect most people to lose a ton of weight with the Factor meals unless you only eat the "calorie smart" options.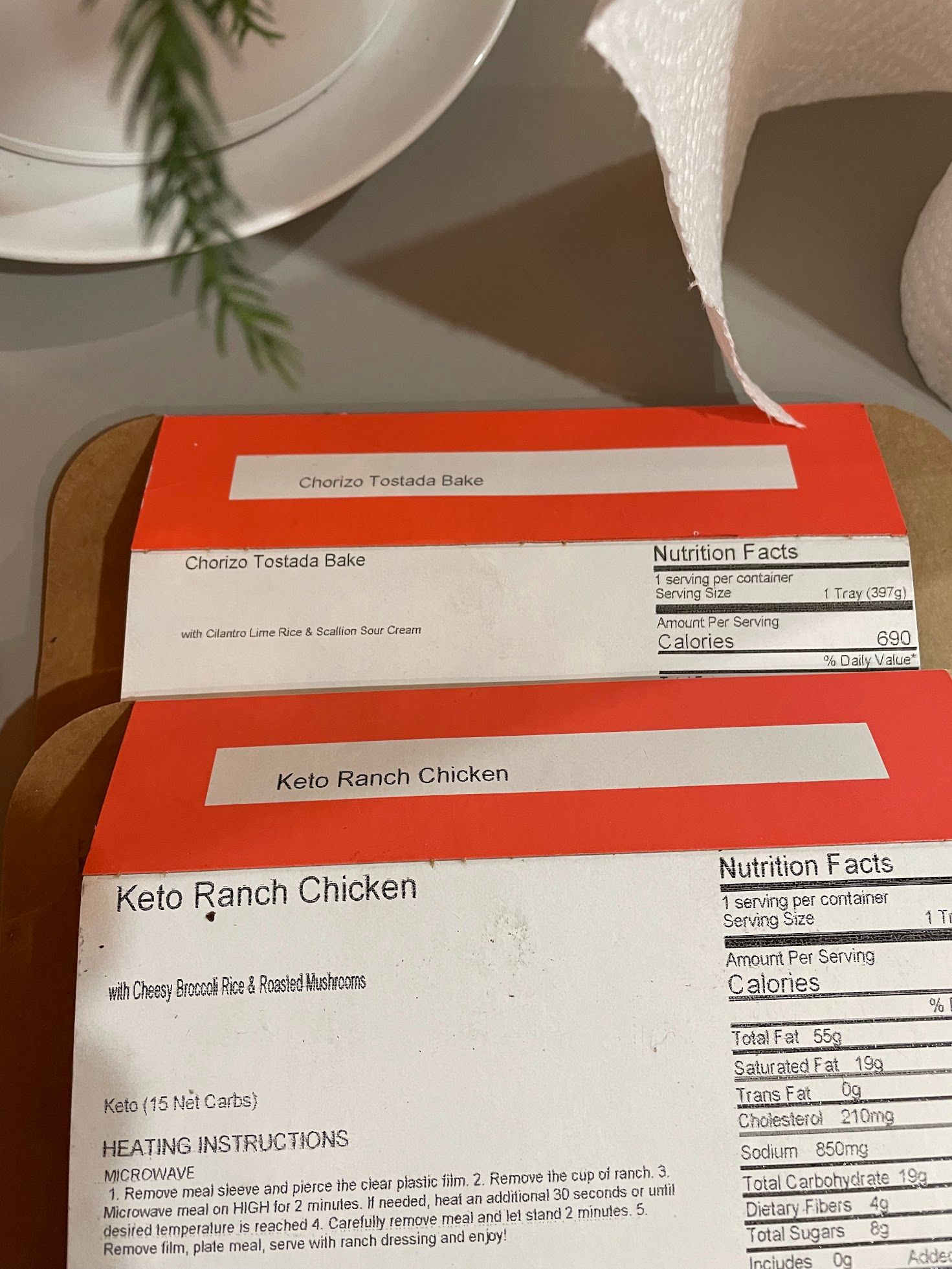 Worth the money?
The credit card charges will show up as FACTORXXXXXXXXXX. Yes, ten Xs. We chose the eight (8) meal plan for $99 per week. For two people, we got most of the week covered with Factor meals for one month. As an added bonus, a friend referred us and our first week was only $39 dollars. So for the month, at eight (8) meals a week, we paid a grand total of $336 – or about $10.5 dollars per meal. This might seem like a lot, but for two people, in California, it's cheap. We can't eat out for two people for less than $30 dollars anymore. At their cheapest (not Factor-ing discounts) you can get meals for $11 each if you order 18 meals at a time. In the end, Factor is likely worth the money in most situations.
Other Stuff
Factor will absolutely murder your inbox with coupons and promotions you won't even qualify for after your first week as a customer. There's a huge disconnect between their marketing emails and their actual invoicing systems. It's annoying.
The Factor meals didn't seem to spoil too quickly. You have about seven (7) days to eat them. I wouldn't push it much further though.  
The packaging is fairly low yield. The shipping box isn't massive and the insulation isn't that huge. However, the ice packs that come included with the eight (8) meal package are absolutely enormous. I kept two, but threw the rest out. It's still more packaging that going to the grocery store, that's for sure. Conversely, it's way less packaging than eating takeout these days. Takeout should be considered the worst offender in terms of waste.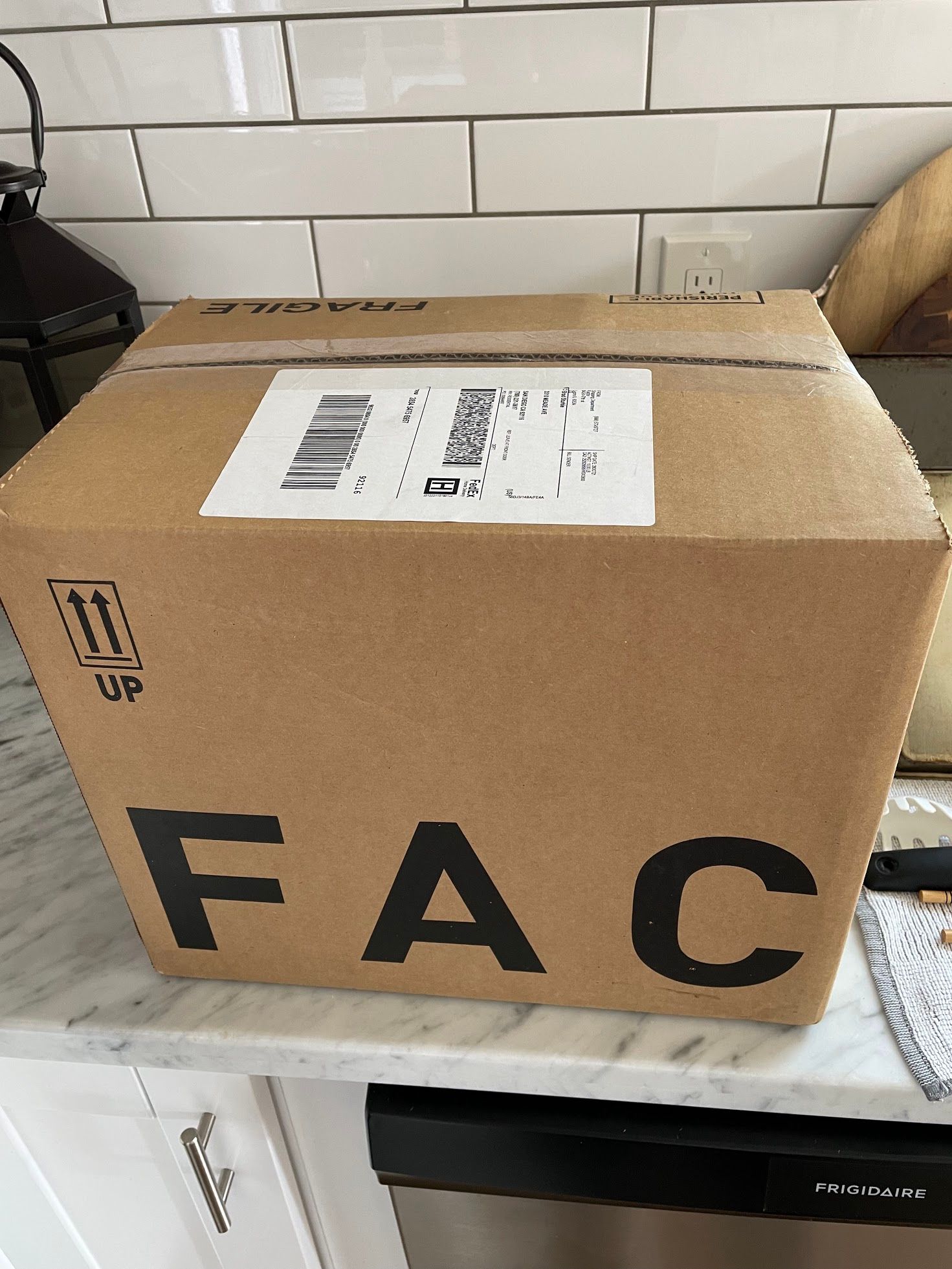 Conclusion
Would I recommend Factor meals? Sure. Would I solely rely on Factor meals for long periods? No. If you need a week or two to get some meals pre-made for you, Factor is one of the better players in this space currently.  Just don't count on making Factor you're only meal solution for any long period of time as you'll get bored with the flavors and the process of making those meals. Eating should be enjoyed, and Factor allows reprieve for busy people and tastes well-enough for the occasional week or two of meals from time-to-time.