Owner Review: Thuma Bed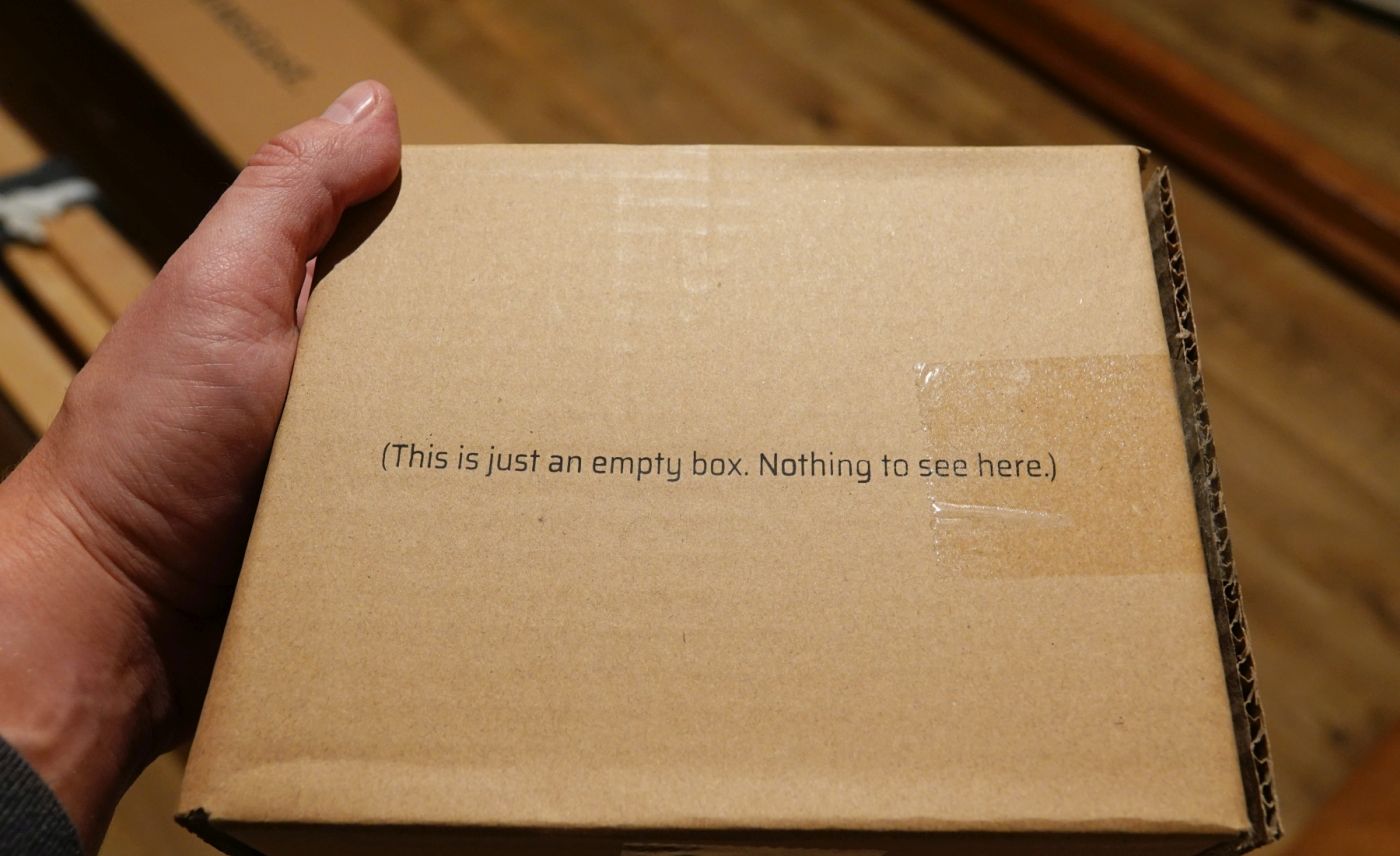 Quickly before I get started, I like to qualify these reviews as owner reviews. They are meant to be honest reviews of products I actually own – no paid advertisements and no marketing fluff. I also like to do these because real reviews of these products can be hard to find, especially with how curated everything on the Internet is becoming. Let's get going.
Time to grow up
I've always had Ikea beds my entire adult life. They worked well since I tend to move often and are somewhat modular. The current bed being replaced was the now discontinued Ikea Nyvoll. It was an okay bed. It was cheap (not real wood) and it wore like a cheap bed. I had it about 4 years and it creaked, squeaked and wasn't very sturdy. I needed a new bed frame and was now willing to spend a little extra for something better.
Algorithm Prey
I'll admit I first saw ads for this bed on Instagram in Q4 2018. The bed looked pretty nice in the ads so I decided to look further. I've been guilty of falling for these "up and coming" furniture companies before. I also have a Campaign Living modular couch, so these advertisers know I'm their target. Nevertheless, I took the plunge.
Cost
This bed isn't super cheap, or super pricey. It's in a pricing sweet spot and comes out to about $900 or so in the queen size. It's definiely more than that $280 Ikea Nyvoll. Let's see why.
Presentation, design and construction
This is likely the best designed bed frame I've personally seen. It's clear that this whole thing was well thought out and lots of time went into the bed frame and even the whole presentation. The website, the thoughtful emails, the pre-arrival gift candle and even the packaging are all very well done. The Thuma team is going for that custom tailored, "millennial marketing" experience and they are doing a good job.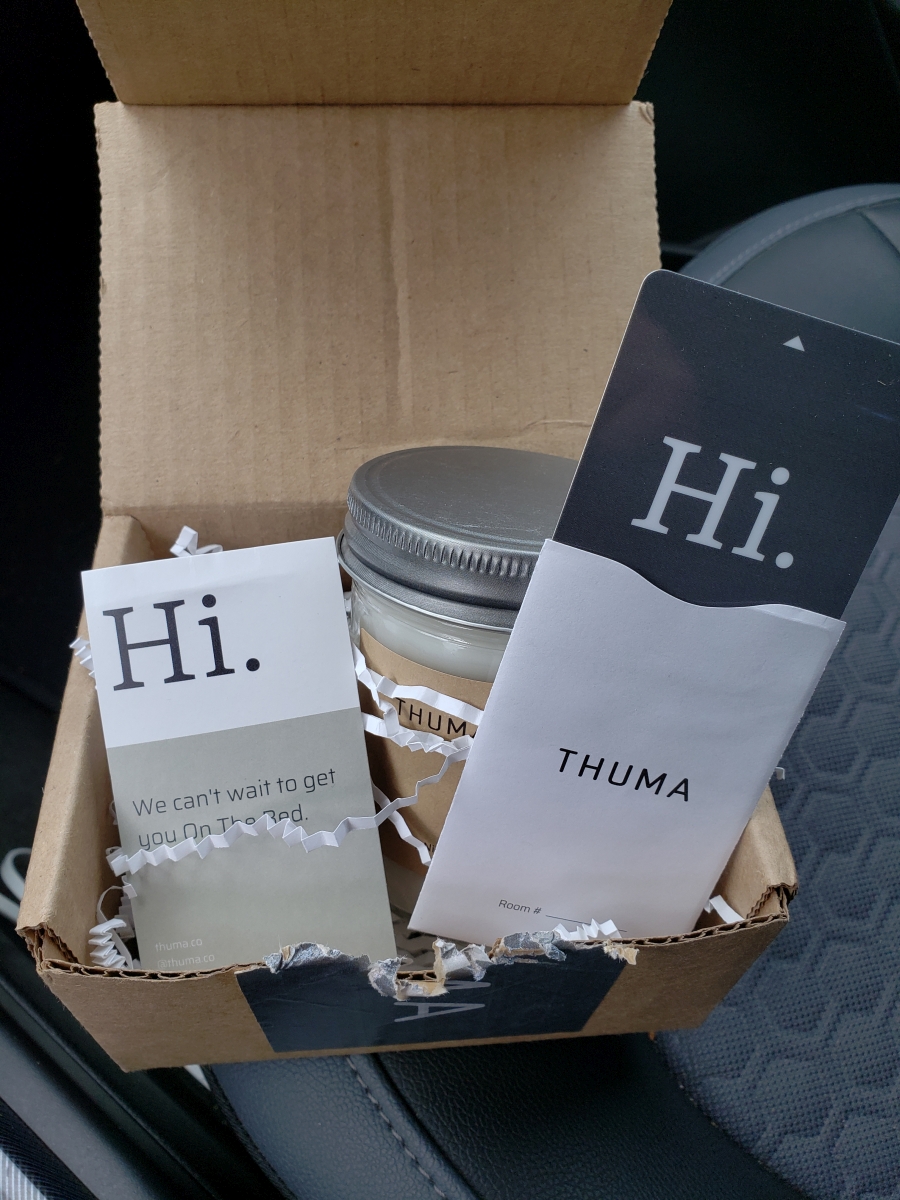 A quick peek in the box...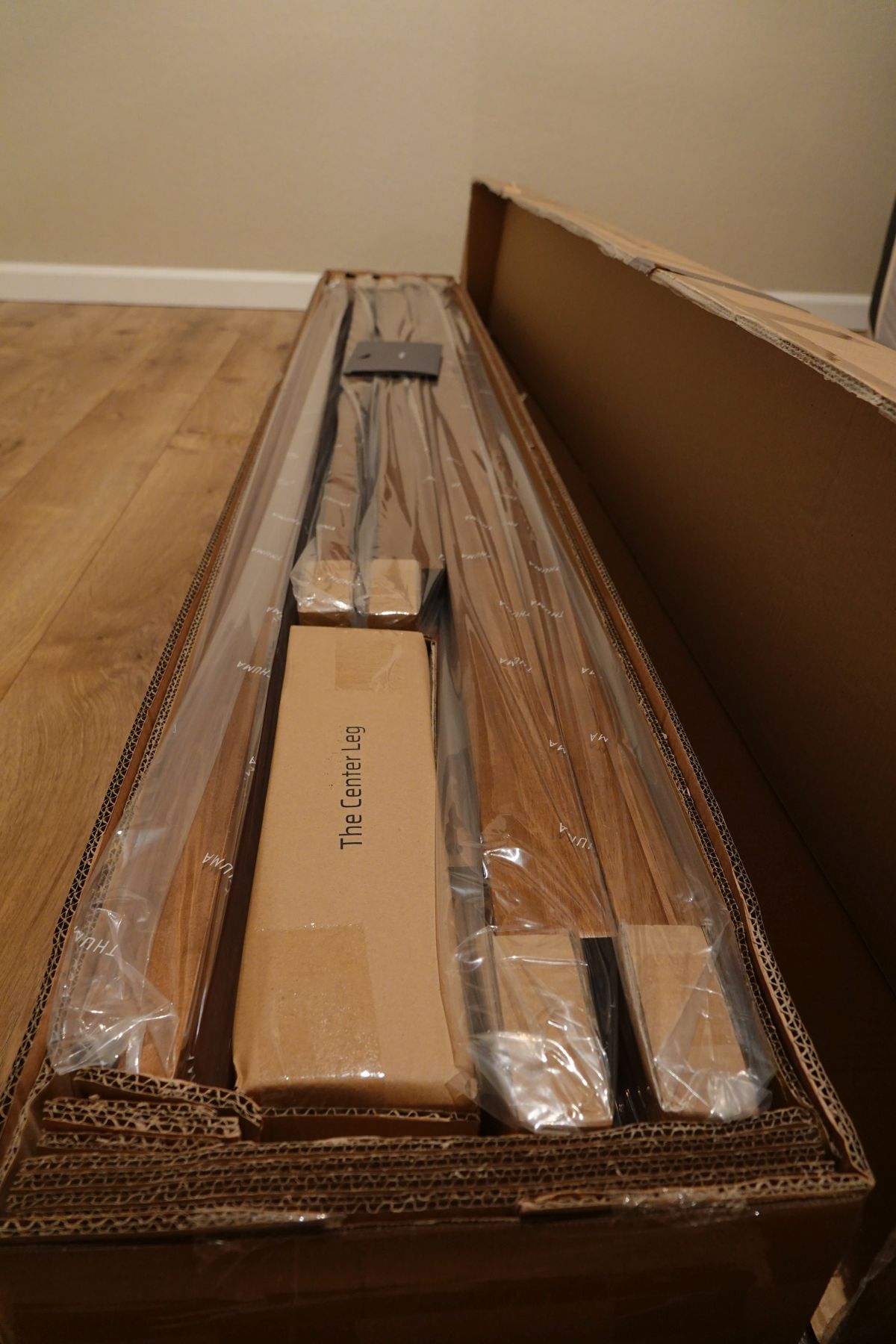 The bed is made of some leftover rubber wood trees. It's apparently sustainable. It looks nice, has a nice color and comes with a subtle varnish smell.  It seems strong enough to be sure. Thuma claims the frame can hold 1,500 lbs. They might be right, as there is a nice a "third leg" for extra support.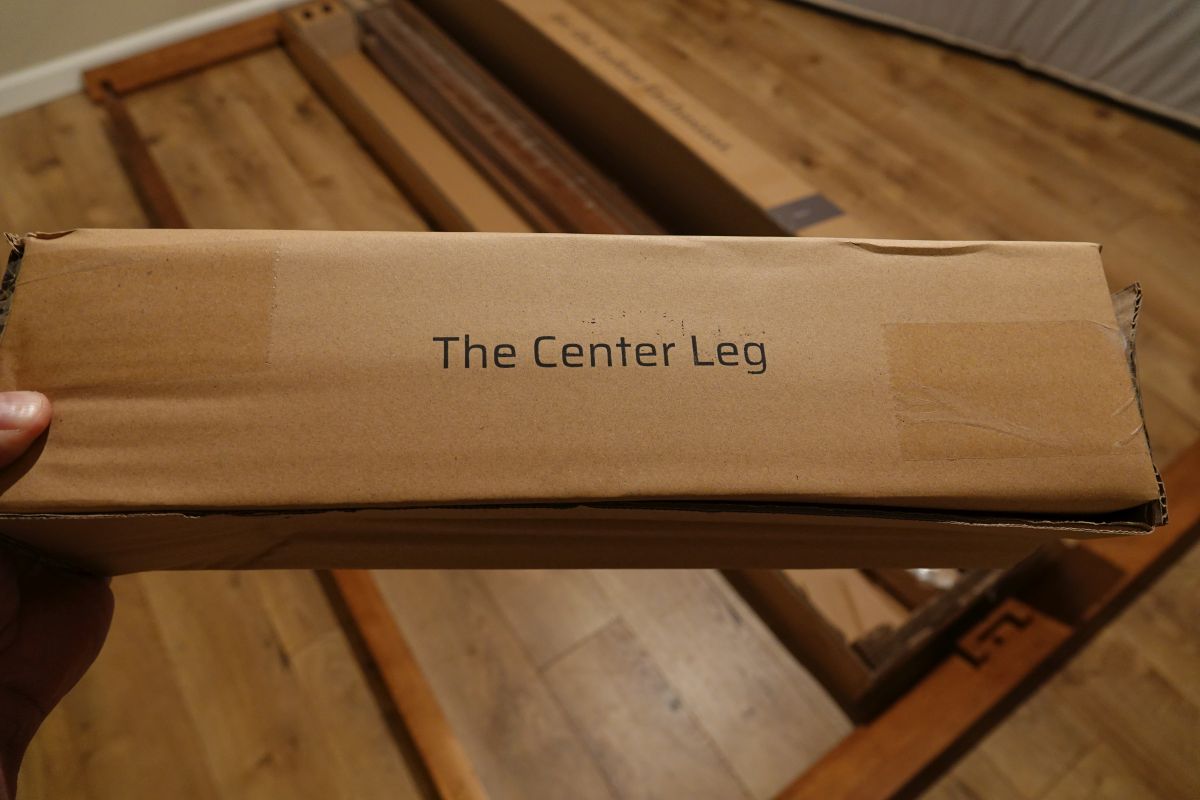 The leg is pretty beefy!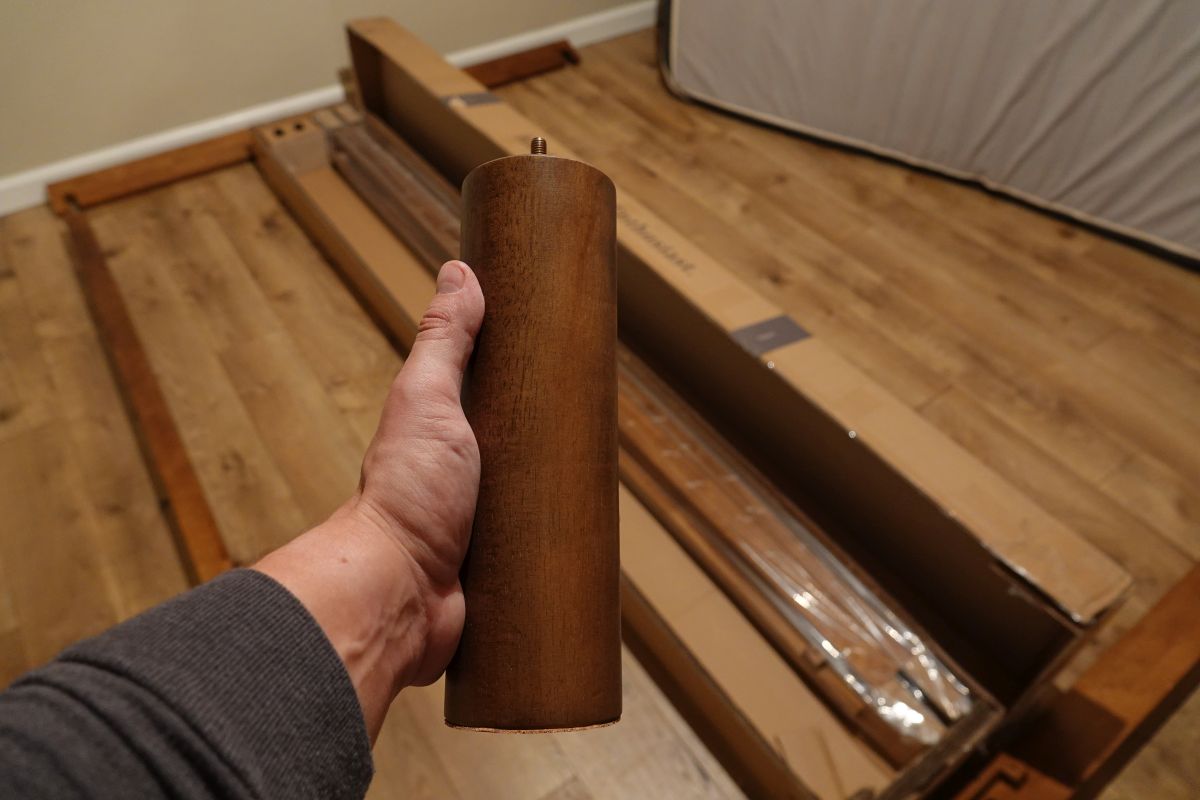 The color is "medium." It's not dark and it's not light. It should go with most decors and match most other furniture. It sort of clashes with my lame apartment floors a bit, but I won't live here forever hopefully.
Lastly, the tool-less design is itself a work of art. The Japanese joinery is delightful to use and everything just fits together immediately. Absolutely no sweat in assembling this bed. This bed is completely the opposite of an Ikea bed, in which mine had approximately 30 screws and other various hardware. Good job Thuma!
Packaging and assembly
The Thuma bed comes in three boxes. Unboxing it all takes infinitely longer than assembling the bed. Each piece is individually wrapped. It's a fairly luxurious unboxing experience for any product, let alone a bed. The bad thing is that there is a lot of plastic and cardboard waste. Thuma claims that they are trying to be sustainable in regards to packaging but I think they could lose some of the plastic.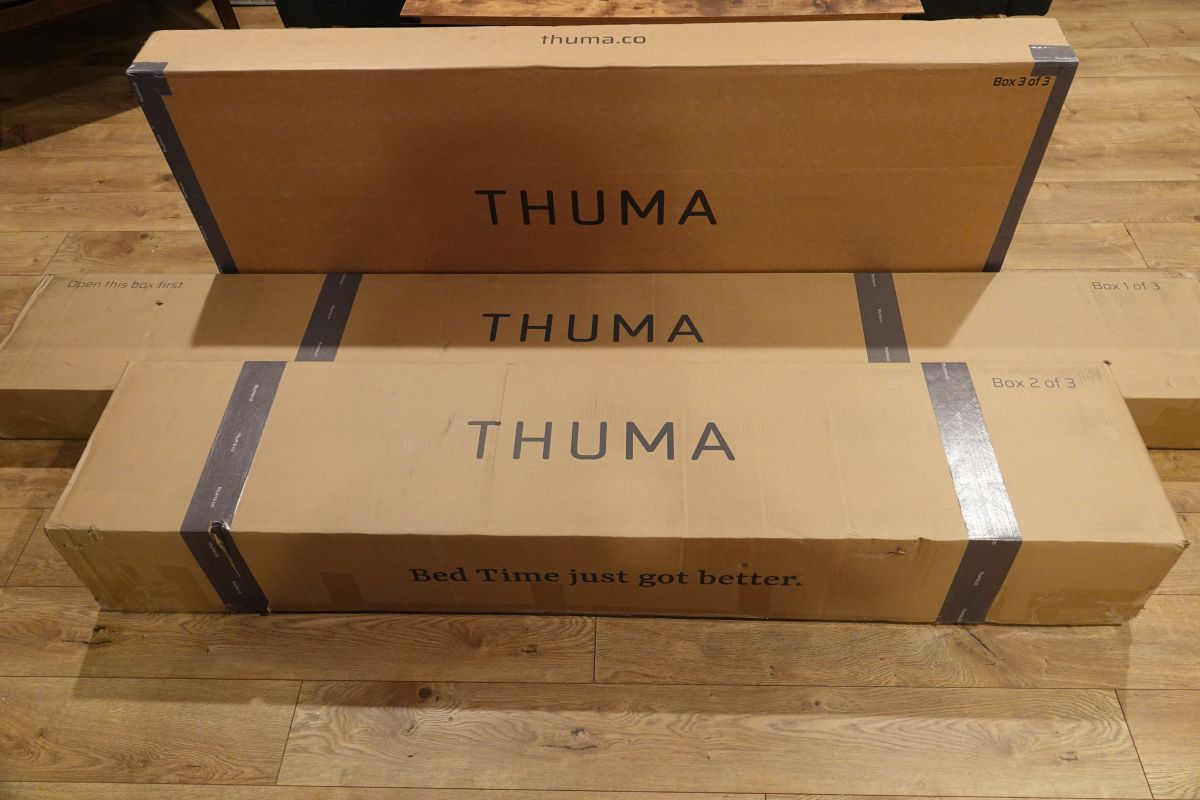 A nice welcome envelope awaits.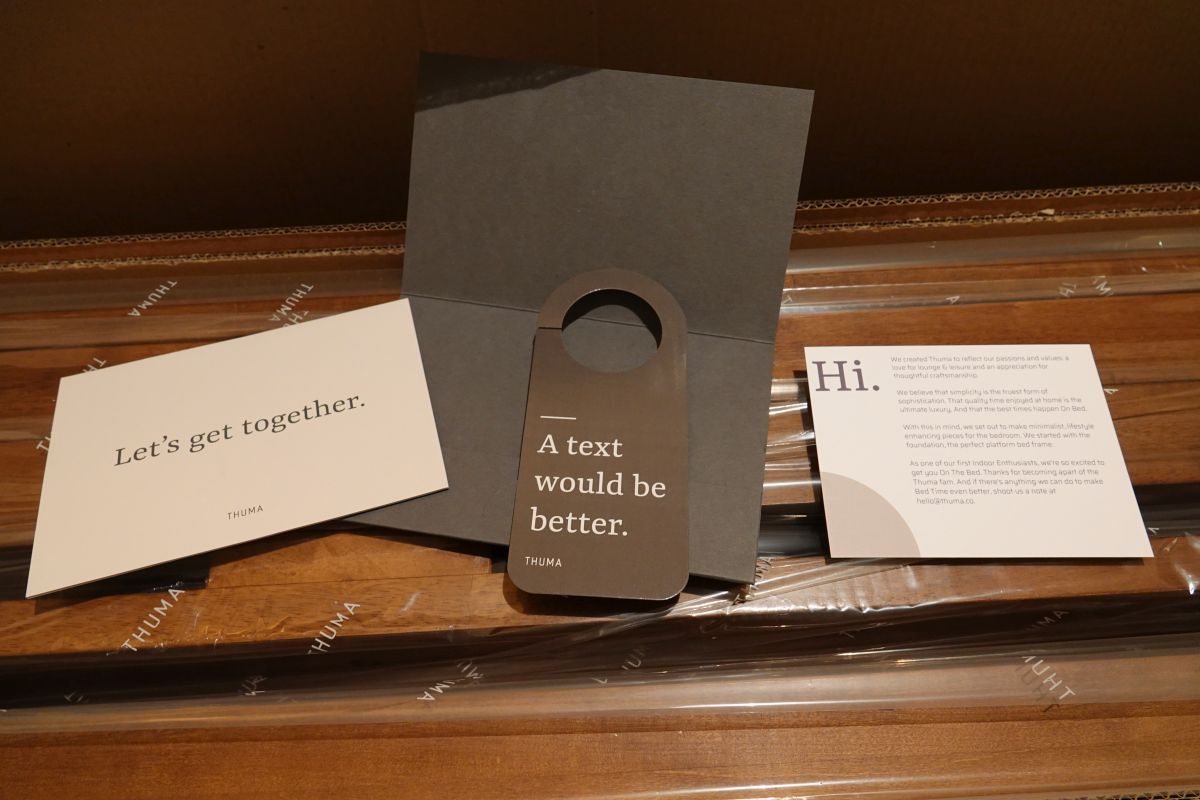 Assembling the bed took literally 5 minutes and that matches their claim on their website. The center slats are a bit heavy but they are very sturdy. Inspired by Ikea designs, the slats are easily twice as thick and a third as wide as the Ikea stuff.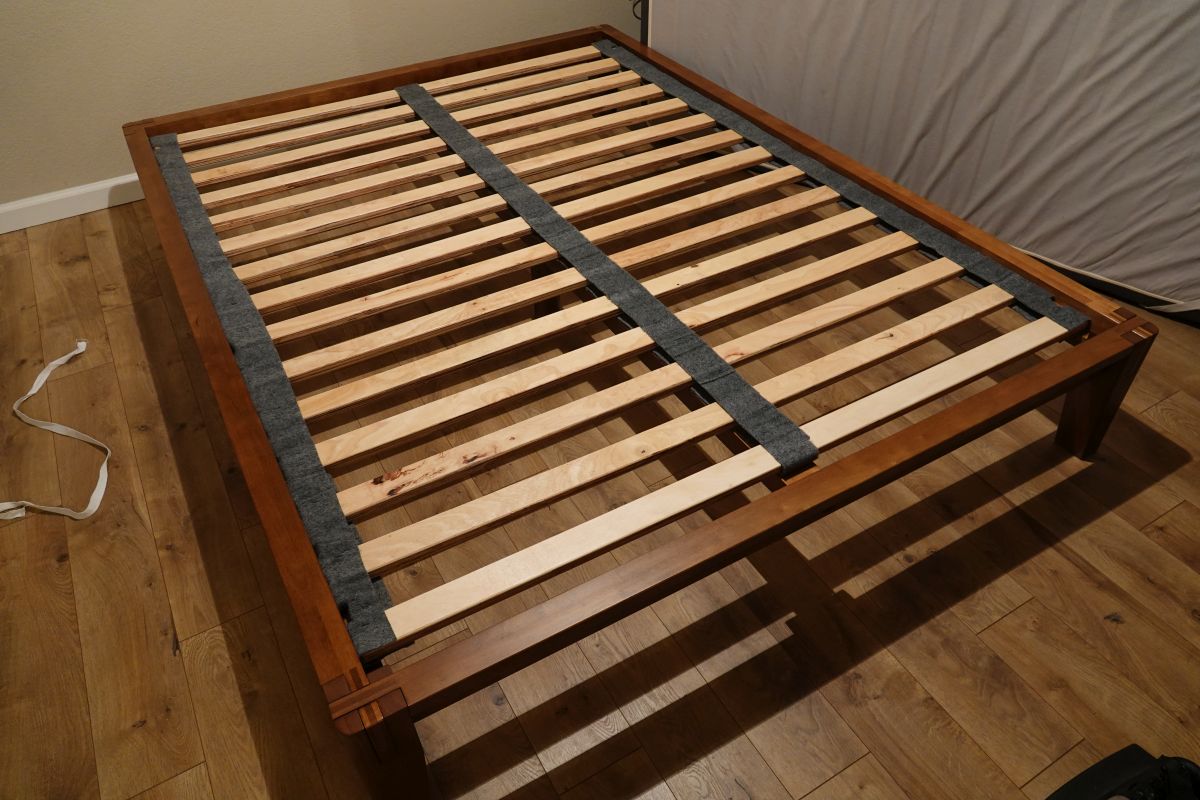 The assembly instructions are also well designed and look like art.
Not so great stuff
When I got the bed all assembled and plopped the mattress I have down, I noticed the mattress didn't sink down at all compared to my last bed. This makes the Thuma almost a platform bed. Due this lack on inset, we get some odd looking details.
Below we can see the odd joining of all three materials. It's not ideal.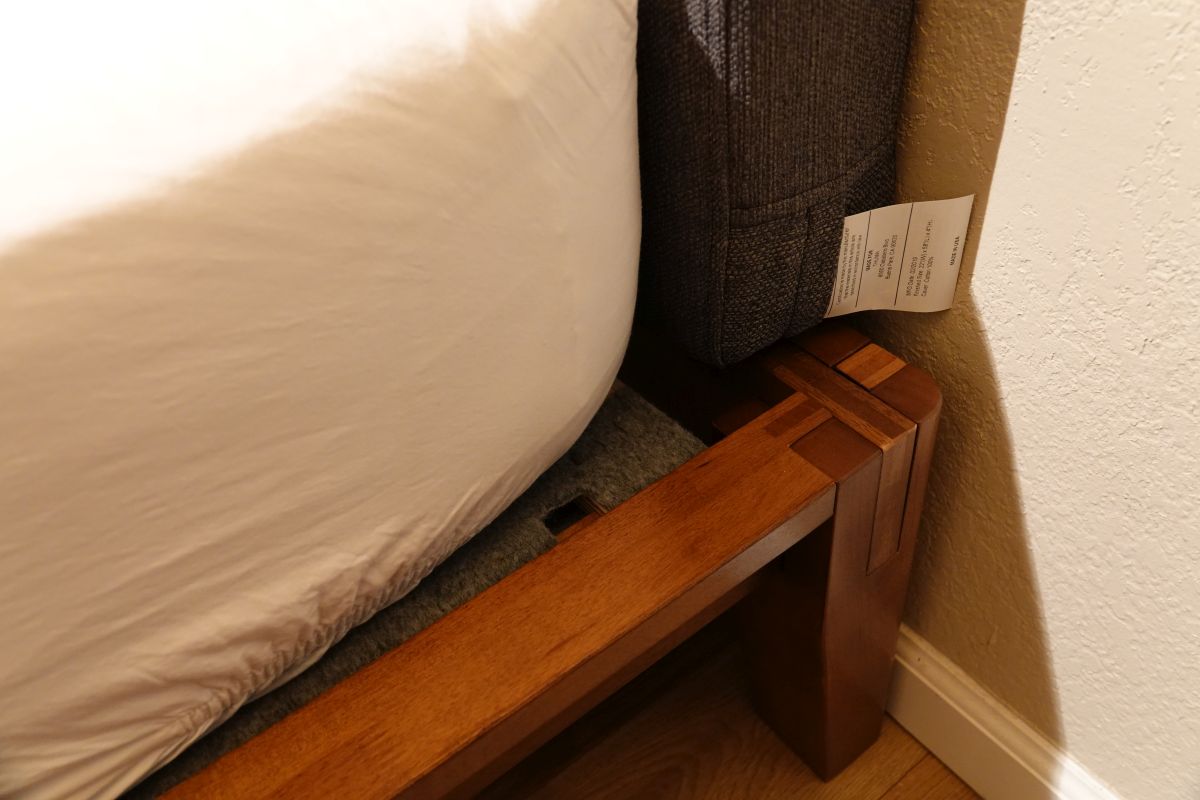 Another not so great thing was this random scuff out-of-the-box. Not a big deal, but keep in mind there is a lot of wood that can take abuse. This was likely done where the frame was made.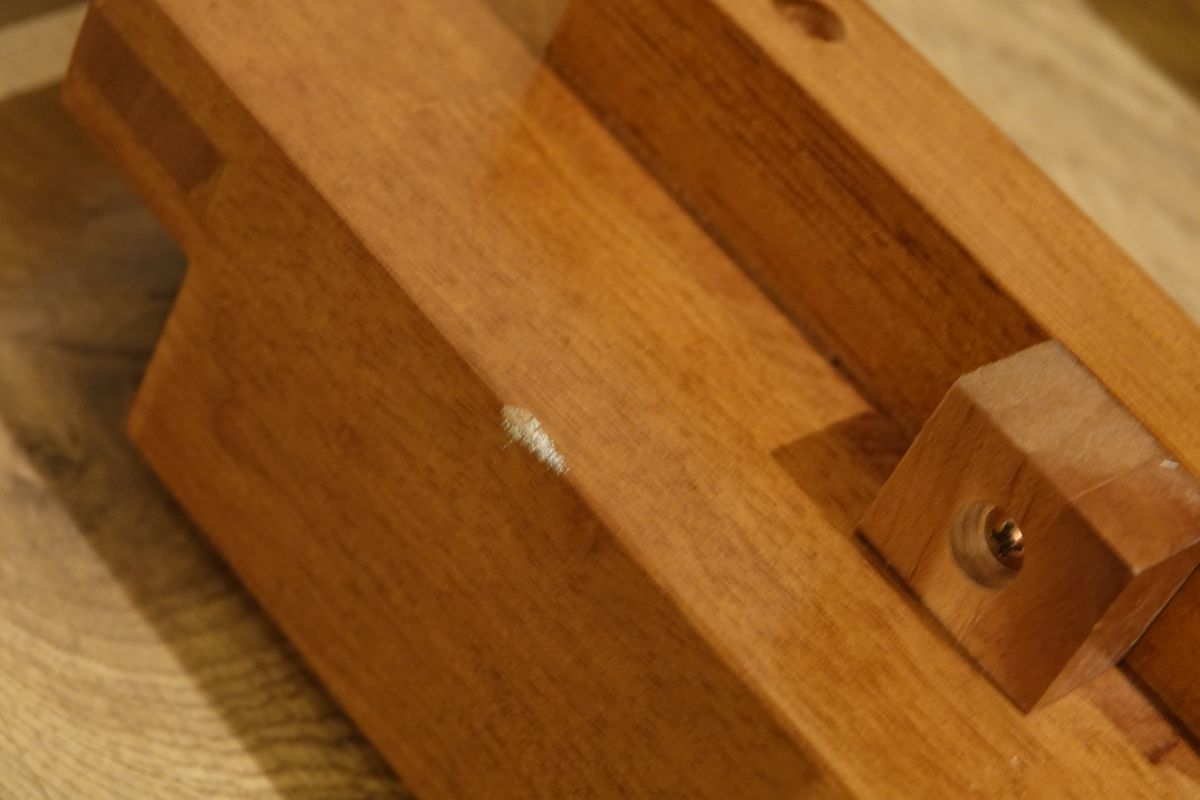 Also, there is this plastic ball and a small mountain of cardboard. Not so great and I could see some improvements in future deliveries here. Maybe some felt or cardboard spacers instead of all this plastic?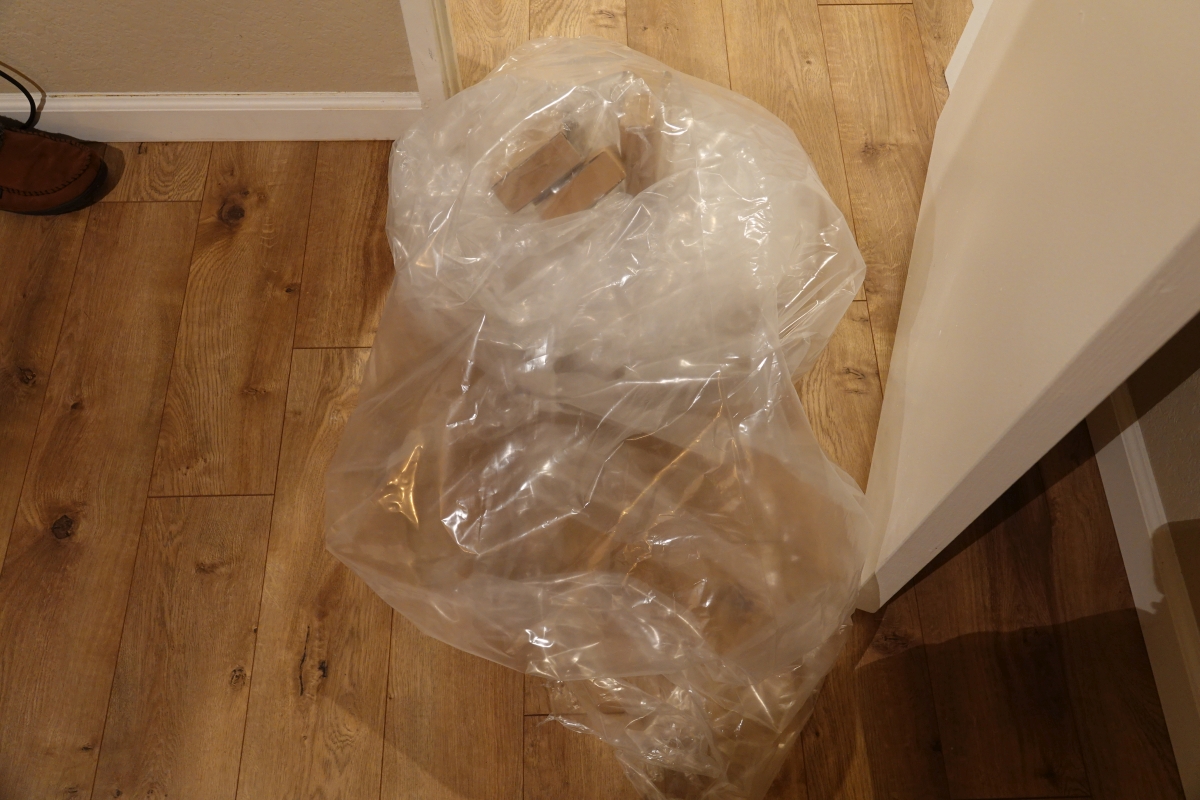 Finally, I can't determine where this bed frame was actually made. I'm assuming some far off land. I hope Thuma follows through with their "ethical" partnerships they mentions on their site.
Overall
In the end, this is easily one of the best pieces of furniture I now own. I plan to keep it for as long as it allows, which I hope is years and years. I'd easily recommend this frame to anyone. Thuma is just getting started and they will likely offer other furniture, other headboards (as they mention in their packaging) and probably other colors. One night down on the bed already and it was awesome!